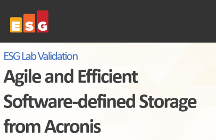 Enlightening report from testing arm of IT analyst firm Enterprise Strategy Group: Agile and Efficient Software-defined Storage from Acronis.
ESG Lab confirms that software-defined storage (SDS) platform Acronis Storage is easy to use, proven, agile, cost-efficient, and scalable, outperforming the competition by 100%-300%.
Download this report to learn how Acronis Storage delivers unified block, file, and object storage in a single, scale-out, hybrid cloud solution at one-sixth the cost of either traditional in-house storage or public cloud storage.