Acronis Backup Solutions
Acronis Backup Solutions
Protect all your data on-premises, in remote systems, in private, public and hybrid clouds, and on mobile devices.
Efficient Backup and Recovery for Any Business
What happens if your organization loses its data? Since data is your organization's most critical corporate asset, loss of data can have significant financial consequences — unproductive employees, dissatisfied clients, lost sales, and additional costs.
If your organization is subject to compliance regulations, you can also be in a non-compliant state, pay high fines, and incur brand damage. With the volume of data exploding and the IT landscape evolving to hybrid cloud environments, you know protecting all of your data — everywhere — ensures business continuity.
Acronis backup solutions deliver easy, complete and safe data protection for your entire environment — unifying backup of your on-premise systems and cloud workloads to protect: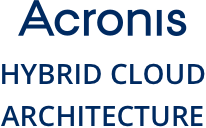 Physical

Virtual

Applications

Mobile

Endpoints

Cloud